I have enjoyed road trips my whole life.
Typically my family would travel by RV and camp at campgrounds and occasionally hotels.
Then later, when I started to travel in cars we either camped or stayed in hotels (or with friends)
Then I discovered "Stealth Camping" and the concept of 'camping' out in your vehicle for extended road trips, to keep costs down, seemed like a great idea
So, I bought a Van !!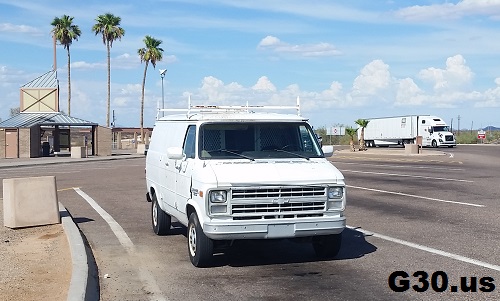 The first Van, was a 1986 Chevy G30 3/4 ton cargo (contractor) van.
It was only $500 from a Tucson School at auction.
I fixed up that van and started out on adventures in California.
However after a few 'test' trips the flaws with the Transmission and engine became apparent and eventually the G30 broke down and required a tow back to Tucson
The costs to repair the Engine & Transmission on the G30 amounted to almost the cost of a new van.. so the next steps were not clear..
I saved up for about a year, and in 2017 finally acquired the "new" 2002 Chevy 3500 Express Van for not much more than it would have cost to fix the G30
The adventures in Van Life continues …
The 2002 Chevy 3500 was owned by the Post Office it's whole life, I am the offical 2nd Owner
The title is created for these vehicles, I am told, as they leave government service, so it has a tag that is only two years old
I keep a few of the Post Office items that were in the van, a few straps, and some Paperwork. And I have a few Post Office items I've purchased surplus over the years in use in the van. A few mail bags server new purposes in the van
And I have a few Official Post Office patches, and some humorus designs from friends in the #PatchGame
2018
Tulsa Gun Show & Texas
3,000 Miles
California Firearm Museums
1,300 Miles
2017
Bannerman Castle Run
11,000 miles – 43 Days on the road
2017 Red Dawn Locations
1,400 miles
(Visited 315 times, 1 visits today)